Much thanks to Scooooot, I had the opportunity to go to HorrorHound Weekend this past Friday. If you're not in the horror/nerd circuit, this is a nice little convention with a good list of actors and other folks in the movie biz and a lot o' vendors. Scoot won some passes courtesy of the fine folks at the Night Of The Living Podcast and of course he had to take me cause I kick all the asses in the world. That's right.
I had big plans for HorrorHound. I was going to meet Tom Savini and get his autograph and maybe meet all these other people. I was excited. I was ready to go.
Then I got there. And saw Mr. Tom Savini sitting there at his table. And you know what? I could merely tiptoe in an awkward dance around his presence. I seriously got so nervous, I couldn't make eye contact, let alone speak with him. It occurred to me 'What could I, a mere lowly mortal, possibly have to say to the likes of Tom Savini?' There was nothing I could come up with that wouldn't reek of lameness, not even "omg, I am such a big fan of your work" cause I'm sure that was coming out of everyone's mouth. I approached his table several times, but just couldn't get my nerve up enough to say anything.
Then there was Dante…er…Brian O'Halloran. Just sitting there…hanging out. Scoot finally got me to go up there and very nicely spoke up for my chicken self, thus resulting in a pic of me and Brian. Good stuff. While we were waiting for our turn, Scoot nudges me and says "It's Danny Trejo!" I scoffed, knowing full well Danny Trejo was not scheduled until Satur…omg it's Danny f***ing Trejo! Scoot insisted on walking up to get his picture taken with Danny, despite my desperate pleas of "Don't do it! I've seen him in movies! He can totally kick your ass!" I'm happy to say Scoot got his picture and did not get an ass kicking.
I will never live down the fact that I was scared to talk to people who purposely showed up to a convention for autographs and fan pictures, but hey, it's just one of the many things that make me the nutcase that I am.
I did get a sweet pic of Bill Mosley, Danny Trejo, and Tom Savini: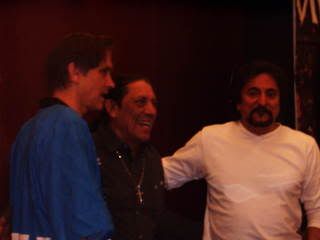 Booya!